This is the current Rogers Park (Chicago) Scrabble Club webpage.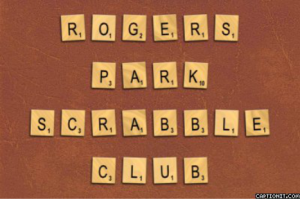 The club meets every Wednesday from 5:30 – 7:30 pm at the Rogers Park Public Library, at
6907 N Clark St
Chicago, Illinois 60626
Note: Because of the coronavirus the Scrabble group will NOT be meeting until further notice.
The Library is convenient to:  Evanston, Lincolnwood, Skokie, Rogers Park, West Rogers Park, Edgewater, West Ridge, Andersonville, Lincoln Square, Uptown, Lakeview, Wrigleyville, Lincoln Park, and the North Side of Chicago, in general.
No registration is required for this meetup; it's strictly drop-in.  There are between 6 and 14 players on any given Wednesday.
If a public holiday falls on a Wednesday, we don't meet.   Such dates are noted on this webpage.  The next such holiday will be Wednesday, December 25, 2019.
The library is three blocks from the Lunt Metra stop and six blocks from the Morse El stop.  If driving, you can enter the (free) parking lot on the east side of the library from Farwell Ave.   (Turn east from Clark onto Farwell, south of the library.  Farwell runs one-way east.  The parking lot is immediately on your left.)   There are parking spaces available 90% of the time between 5:15 and 5:30.   If there aren't any spaces, then you will have to find parking on Farwell or Pratt or paid street parking on Clark.
Small free-will contributions (used for miscellaneous expenses and semi-annual parties) are accepted — if so inclined.
We follow an "open-dictionary" rule, that is, you can look up whatever words you want prior to making a play.  This is done with the understanding that players will not abuse this practice by taking excessive time in "fishing" for words.
Players need to bring boards.  But 98% of the time, enough boards are present that everyone who wants to play, can….
You may contact:  Lucius @ jspecht.org   for additional information.