The Bushman Speaks
[This poem won the $500 2004 Short Grain Dramatic Monologue  prize.]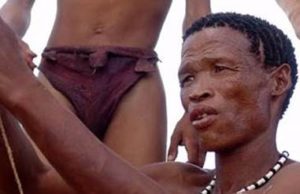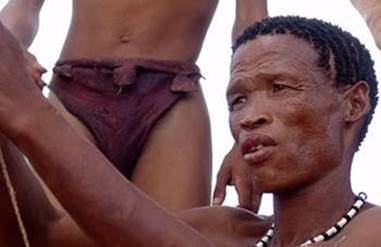 (Note: The occasion for this speech is the arrival of an expedition
headed by a European in a Bushman werf around the year 1900.) 
This desert is our life.
From the dry earth we gather roots and melons.
Over the endless sands we hunt the gemsbok and the springbok.
Sometimes the ga roots are shriveled and bitter.
Sometimes men are sick with thirst and hunger.
When there is water we drink and sing and clap our hands.
When there is food we eat and dance and clap our hands.
The eland does not come to us and ask to be eaten —
one must know how to make the arrow and poison it
and where to look and how to hide and shoot. . . .
What man is so foolish as to expect more? To expect
the rain to be always falling, his eggs full of water and
his stomach full of meat?
You have strong animals to carry you.
You have much food and water.
Your digging sticks are hard and sharp.
Your shooting-sticks are like lightning.
You are a powerful man and a good man.
I can see that in your eyes.
But what you offer is a dream.
You can give us water and meat.
You can fill our hands with tobacco and perfect beads.
But you cannot give us happiness.
A man can only drink so much and then he is full.
If a man is always eating honey, he tires of it and becomes sick.
And even if all life were sweet —
what man is not food for lions and dogs?
A man who has tasted in his life no bitterness will find death very bitter.
My mouth longs for sweetness
but sweetness brings bitterness
and in the end they are one.
So I ask you:
Take your digging sticks and your shooting-sticks.
And do not leave them behind.
Go to the green lands you came from.
We shall walk in this desert as we always have.
Hear Jerry/Lucius read this poem.    This poem is part of the Scraps of Faith collection of poems.
Keywords:  Bushmen, Africa, Kalahari, desert, way of life, modernization, change, famous, hunter-gatherer