[Summary: Rembrandt started out well, became less fashionable over time, and ended up filing for bankruptcy at the age of 50.]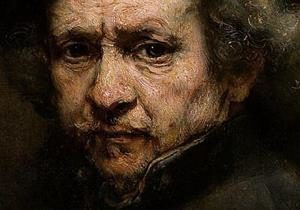 Detail of Self-Portrait, 1659, National Gallery (Washington, DC)
Rembrandt is now universally considered one of the greatest painters who ever lived. This was not always the case. In his lifetime he was ranked below the Italians and certainly below his contemporary Rubens. Some considered him to be the greatest Dutch painter, but many would not have accorded him even this lower status. He started out in a very promising fashion, painting for the highest level of Dutch society, but became somewhat less fashionable over time, did not manage his finances well, and ended up filing for bankruptcy at the age of 50. He continued to make a decent living selling his work to discerning (mostly middle-class) patrons.
Link back to Genius Ignored –Table of Contents
Introductory Note: To understand why Rembrandt's paintings are considered to be so great, you must go see them in the museum. His drawings come across well in reproduction, the etchings less well, but the paintings are mere shadows of the originals. Take the Old Man with a Gold Chain . This is by no means one of his greatest paintings. Most books on Rembrandt don't even include it. When it is found, it seems quite ordinary. But when you see this painting in person, you are overwhelmed. The old man's serious, wonderfully alive, somewhat sad face is reflected in the beautiful steel armour around his neck. One feels that he might suddenly shift his gaze and ask you the time of day. After looking at him for a while, people in other pictures seem like cartoon drawings. . . . Hopefully, there will some day be a technology which captures the beauty of such paintings.